Yo nerds! Welcome to the last ever Random Melon Reads blog post. I can see some tears, I can see some cheers… wtf?! Insensitive.
So 2018 is over. Where did the time go? I'll be pressing 8 followed by backspace followed by 9 for at least the next 6 months! I'm dreading the next time I have to write a cheque, it's gonna be a sham.
I read some books in 2018 I did. This means THERE ARE STATS!! I love a good stat I do. Shall we look at some of them? It's rhetorical.
---
I read 134 books in 2018. I try not to set myself goals for numbers of books read. Partly because I'm just not competitive enough to care, but also because I regularly read single issue comics and short stories, which come in at anything from 10-35 pages long so I end up with an inflated number compared to pages read. Speaking of such, in total I read 17,665 pages. Again, it doesn't really matter much to me. Really my focus was on trying to read for at least 20 minutes every day.
I was going to list all the books I read in 2018, but that's boring and nobody wants to read a plain list of books. You can see them in my Goodreads year in books. So instead, let's look at some charts! Everyone loves charts!
Other Random Stats and Google Sheet Template
I keep a bunch of other stats in my spreadsheet because I'm one of the cool kids. Last year I made the Google Sheet available for others to use. I don't think anyone did use it, but I have a 2019 template available for if people do want to use it. Use it, change it, do what you like with it. I haven't done any instructions for it because it's pretty self explanatory, but there are the 2018 instructions if you want.
Anyway, here's my 2018 stats.

22 books by multiple, 54 male, 54 female, and 4 transgender. I start with this because it is the stat that gives me the most anxiety. I don't worry about any other reading stat through the year, but I worry about this. I feel that because I am a man if I read more books written by men than women, I will be contributing to the issue of gender inequality. But I don't want to go the other way and read more women than men because that also doesn't feel equal. And that's not even considering transgender and enby folk. So I try to keep this balanced.
One thing this stat made very noticeable through the year is that we desperately need more female and transgender created comics! It's such a sausage party in the comics world. Trying to find comics by women is really difficult.
Earlier in the year there was the whole twitter dot com drama when a Waterstone's account tweeted about how men coming into the store won't accept recommendations of books written by women. It's bizarre that there are men out there doing this, but I also took issue with the Waterstone's account referring to all men as 'ridiculous creatures'. Of course, there was a lot of argument about this. Ultimately, I decided to boycott Waterstones because of this. Not because I am a man, and was labelled as a ridiculous creature, but because I'm not comfortable with supporting an organisation that actively encourages creating further division between people.
I also saw some women responding to this by saying they would only read books by women from now on. I think I understand the intent there, and each to their own, but that very much feels like just adding further division into the situation. The issue, at its base, is that one gender won't read books written by a different gender. So to be a woman and only read books by women doesn't tackle the issue. We don't fight fire with fire – that seems a little immature. We make positive change by rising above hatred, and inequality, and trying to be a role model for others. If we want men to read books by men and women equally, then we have to be that change and set a good example. Overall, I think the issue of gender inequality in publishing is much larger than just this situation, and this isn't the time and place to try and fix it. So let's move on!
Shall we have a joke here?! The past, the present, and the future walked into a bar. It was tense.

Look at that. This shows where in the world all the authors I read currently reside. I really didn't do well at reading from around the world. Must try better.

18 books with an ensemble, 2 with a trans protag, 34 with a male protag, and 80 with a female protag. Men like to write about women protagonists it would appear.

It's not surprising to me that over 60% of my books read were either comics or variations of such. I like comic books. They are pretty.

5 childrens, 5 middle grade, 69 teehee young adult, and 55 adult. Yeah, I stopped reading children's and middle grade books this year. I found they just don't work for me. I read a lot of young adult at the start of the year, but then I started reading more adult books towards the end. Partly because I went on a bizarro discovery voyage and they tend to be adult orientated. Also, I think it's really difficult to sometimes fit certain books into these categories, so I don't take it too serious.

Yeah, I like fantasy or variations thereof. I thought I read more horror and urban fantasy than I do, so that was interesting to see.

I really fell out with physical books this year. The last physical book I read was back in October. It was The Girl from the Other Side Vol 5. The time before that was in June. Let's face it, digital books are just better don't @ me.

I don't like long books. And I read a lot of comics.

I had a good last quarter than the rest of the year.

Same as above, really.

I don't reread a lot. I reread my favourites once a year, and this year I went through and reread a couple of serieses. Rereading isn't my favourite thing. I get concerned about how I might not be discovering the greatest ever book in the time I am rereading something I already think is quite good.

On the whole, I chose good this year.

Earlier in the year I stopped giving star ratings on the blog, and instead moved to a Recommended or Not Recommended instead. Golden Pips are for the best of the best. More on these below.
I did continue to also give books a star rating for Goodreads, Amazon etc. On the whole, Recommended got 4 stars, and Not Recommended got 2 stars. But there wasn't a set rule per se.
There are some other charts and stats that I kept, but they're not that interesting.
---
So which books did I love? I gave 4 books Golden Pips on the blog. They are:
Rusticles by Rebecca Gransden


Such a beautiful collection of short stories. Haunting, and unnerving in many places. My in depth review covering each story.
What the Flower Says of Death by Danielle Koste


Oh my, this book! I had read Danielle's debut PULSE and enjoyed it, but didn't think it was perfect. WtFSoD is a masterpiece in creating tension and evoking emotion in the reader. It really is top notch. I bought several copies as gifts for other people because people need to read this book. My in depth review.
Jesus of Scumburg by Leo X. Robertson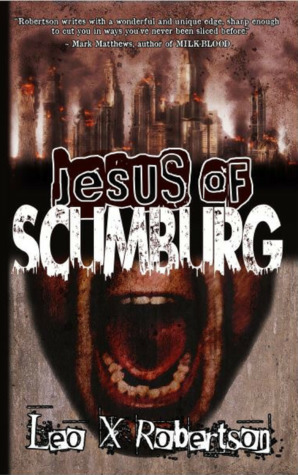 Oh boy, I had such a blast reading this. It was my first foray into the bizarro, wacky, batshit crazy, psychedelic world of this genre and I fell in love immediately. After reading this I started to track down further bizarro stories and I am so very happy that I did because I love the genre! Originally this was going to be published on Christmas Day 2018, but unfortunately the publisher closed down. I really do hope this is picked up by another publisher soon, because people need to be able to read it. My review.
anemogram. by Rebecca Gransden


This book was my discovery of Rebecca Gransden. I love this book. I have read it 3.5 times in 2018. It's one of my all time favourite reads. I have rambled about Rebecca and how great her writing is a lot this year so I won't do it too much again. (Just a little.) It appears this woman is incapable of writing anything that isn't exquisite. I've read most of the stories she has published in different places, and genuinely, they are all 5 star stories. Rebecca is a master of the short story. My original review of anemogram where I fanboy and shout incoherently a lot.
Honorary mention.
The Girl from the Other Side by Nagabe


I would also give The Girl from the Other Side as a collection a Golden Pip. Each book is a 5 star read, but collectively and considered as a whole, the story is phenomenal. I think a lot of people may be put off because it is a manga, but I implore people to give it a try. It's sweet, and heart wrenching, and uplifting, and exciting, and all the things we all want from a good story.
---
And that's my 2018 in books. Overall I am pretty happy with what I read and I love looking at charts. I'm not setting any reading goals for 2019. Goals just create pressure. So I just want to continue to read, and discover as many indie and self published authors as I can.
And that's it for Random Melon Reads. I'm not one for goodbyes, and it's not really a goodbye because I'm still around on the twitter and goodreads dot com. I also created a site to post my writings and maybe the occasional blog on writing; jackcjstark dot com. So follow me there if ya want.
Anyway, I'm off to write a story, about an owl. As always, and forever, Peace and Love!
---

Jack CJ Stark
Goodreads
Twitter
Writer's Website