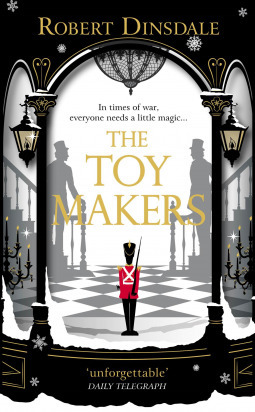 Title The Toymakers
Author Robert Dinsdale
Genre Historical Fiction, Magical Realism, Fantasy
Format eARC
Page Length 320
Publication Date 08 Feb 2018
Publisher Ebury Digital
Read Date Aug 2018
Recommended Yes

Synopsis
It is 1917, and London has spent years in the shadow of the First World War. In the heart of Mayfair, though, there is a place of hope. A place where children's dreams can come true, where the impossible becomes possible – that place is Papa Jack's Toy Emporium.
For years Papa Jack has created and sold his famous magical toys: hobby horses, patchwork dogs and bears that seem alive, toy boxes bigger on the inside than out, 'instant trees' that sprout from boxes, tin soldiers that can fight battles on their own. Now his sons, Kaspar and Emil, are just old enough to join the family trade. Into this family comes a young Cathy Wray – homeless and vulnerable. The Emporium takes her in, makes her one of its own. But Cathy is about to discover that while all toy shops are places of wonder, only one is truly magical…

I received a copy of this from Netgalley. My thanks to the publisher for this opportunity. These are my honest thoughts of the book.
Three Words
Enchanting | Slow | Unpredictable
Likes
– The Emporium – The descriptions of the emporium are wonderful. I wanna live in the emporium.
– The magic – I love the magic in this world. It reminded me of the magic in The Night Circus. It's a similar descriptive style.
– Cathy, Papa Jack, and Martha. These characters were great.
Dislikes
– The plot. It's slow going at times and feels directionless.
– The over-descriptive writing style.
– That synopsis. It's misleading.
– The supporting characters, including Kaspar and Emil. They just felt a little weak and homogenous.
Overall Thoughts
This is a really difficult book for me to rate. There was a lot that I liked, but there are some things that I found so tedious and boring. For me, this straddles the line between a 2 and 3 star read. Those are the only options because half stars don't exist! And that's real tough because that's the difference between recommended and not recommended. But taking the whole story into account, I finally settled on 3 stars – recommended. Let's start off with some things I didn't like.
That synopsis. Oh, how it grinds my gears when an author/publisher releases a book with a misleading synopsis. It really is probably my biggest book bug bear. From reading this synopsis, I thought the story was going to be about Cathy, and her discovery of the emporium, and then something happens to make her want to stay in the emporium for some grand reason that would play a part in the ending. It gives the impression that Cathy is our MC throughout. You thought the same didn't you. Be honest, you did. Well, that is not what we get! Or, at least we do for the first 15%, and that's it. Cathy does start off as the MC, but becomes somewhat of a supporting character throughout, and then becomes the MC again at the end. The rest of the story has very little connection with this synopsis.
When a book has a misleading synopsis/blurb, it just sullies and diminishes the overall experience I have with it. I get that it is really difficult to write a good synopsis that sells the book without giving away the story, but come on, don't purposely mislead your readers. It's a real dick move. I think I can see though why it would be difficult to write a cohesive synopsis for this, and that's because of the plot.

WOAH! Sick segue skills there, Stark!
The plot felt directionless and disjointed. This felt like 4 stories in one, and not in a good way. We start with a story of 16 year old pregnant Cathy running away from home and discovering the magic and wonder of the emporium, and there's a touch of sibling rivalry. We get teased with a love triangle, which fortunately for me, we didn't get! I would have noped out right then and there. Instead, we shift to a heartbreaking, sad, story of war, xenophobia, and veteran PTSD. Just when I was sat thinking, 'What the fuck is this story about?!' the plot shifts again to being about siblings struggling to find their place in the world, and a message of how all things come to an end. At the same time we get Westworld style subplot of magical toys becoming self aware and self maintaining with their own religious lore and wants and needs.
This has a really good, strong, start. And then… it just sort of fizzes out for 75% of the book. But then the last 15% is really good again, bar one minor aspect. We regularly skip over large amounts of time. It's like, here's this interesting thing that happens and you get lots of detail and invested in what is happening, and then we'll skip over the next 10 years because nothing really happens. I just found that a bit jarring.
I thought the descriptive writing was a little overkill in parts. To start with, every single detail of the emporium is described wonderfully, and I loved it. It made me fall in love with the magic and wonder of the emporium, in the same way that Cathy was at the time. But, it then gets old very quickly. When that style of writing continued through most of the book, I started to lose interest in the emporium. It became a little too normal for the world. I think it's because we really don't see too much of the world outside of the emporium. I think a little more time in the 'real' world would have kept the wonder and magic alive whilst in the emporium.
Some characters were a little underdeveloped and we didn't really get enough time with them or see enough individual traits from them for me to get invested in them all. Emil and Nina in particular.
Maybe this highly descriptive and fractured style would have worked better as a collection of connected short stories rather than a novel. We could have shifted POVs to spend more time with some characters and to get invested in them more. I think I could have got in to that as there are many things I really liked about this.

WOAH! Here we go again!
I love this style of magic. Magical Realism is, by far, my favourite genre. I love the idea of paper trees, wendy houses and toy boxes that are bigger on the inside, and clockwork patchwork dogs and rabbits. I love being in these worlds where magic is controlled by how well one can imagine something being a reality. If you can imagine it, it can be. Magical Realism, when done well, captures the joy and excitement of childhood wonder, for those who yearn for such things in our adulthood. This book does Magical Realism really well.
It pained Kaspar to admit that he did not yet fully comprehend what his father had done to stretch out the space inside the playhouse. 'Papa … does things. Emil or I, we'll make a toy and along comes Papa and … he's better, don't you see? The things he does –why, there are toys, and then there are Papa Jack's toys.
Although I felt some characters could do with more development, some characters were great. Such as Cathy. She starts off as a scared, yet determined, young woman on the run. She shows an immense amount of courage, and grows to be a mindful, caring, and opinionated matriarchal figure. Martha, her daughter is also great fun. She is a feisty child, with all the determination and stubbornness that her mother had. But like her mother, she is smart, and grows up to be a successful, kind hearted woman.
Papa Jack may be one of my all time favourite characters. Which is a tad odd, because we don't see a huge amount of him. He's more of a mysterious figure that lurks in the shadows of the story. A kind, gentle, man. But one that imposes his presence on those around him. He's seen terrors like few others of his day, but instead of becoming a bitter, angry person, he knows that love overcomes hate. He spends his life bringing joy and happiness to others. He doesn't boss people about, and rarely intervenes in quabbles or spats. He guides those that need guiding, but not by telling them what to do or by imposing his will. He does so by encouraging them to be the best they can be, and to do what is right for them. He encourages them to follow their own path, knowing that we are all good people deep inside.
Towards the end, we have a number of gut punching situations that occur. I liked this. It kept the story interesting. Instead of following the typical template of growing to a big crescendo, the story slowly winds down, in the same way that clockwork toy soldiers that haven't been wound in a while might.
Overall, I enjoyed many aspects of this, but felt it lost its way at about the 40% mark. And although I enjoyed many aspects of the ending, it did feel like it came out of nowhere. This has some really strong world-building, and some strong characters, but unfortunately struggled to find it's story. Therefore, the plot points felt forced. It was like the author had a few good characters, an excellent world, but wasn't quite sure what story should be told with them.
Anyway, I'm off to make a horse out of sticks and grass. Until next time, Peace and Love!
Book Links – Goodreads | Amazon UK | Amazon US