So, you know when you spend forever writing a post and then think you have set that post live and then one day think 'I don't remember how well that post did' and then you check and see that you didn't actually set it live and instead it is still sitting in your drafts and that's the reason why nobody has viewed liked or commented on it and that you're terrible at being a blogger but it's ok because it's ok to be whatever you are in that moment as long as you're not harming anyone else and that nobody will mind if you set it live now even though it's close to a month of being out of date?
That.
---
Welcome one, welcome all to my 2018 mid year reading review! It's the end of June (lies!) and I see that people like to do a mid year review, so I thought I would join in. So, without further ado, and without hesitating, or dragging this out any longer than necessary, or delaying for no rea… (you've already done this joke once, Stark. Get some new material!)
Tough crowd. Hey ho, let's go!
Books Read
1. Damaged Goods by Richard McAuliffe, Mark Chilcott
2. The Long Year by Claire Connelly
3. Rat Tail Curves by James Ostby
4. Primal Awareness by Rob Wildwood
5. The Girl from the Other Side Vol 03 by Nagabe
6. TEOTFW by Charles Forsman (My Show vs Comic post)
7. Every Heart a Doorway by Seanan McGuire (My review)
8. Down Among the Sticks and Bones by Seanan McGuire (My review)
9. Beneath the Sugar Sky by Seanan McGuire (My review)
10. Assassination Classroom Vol 01 by Yūsei Matsui, Tetsuichiro Miyaki (Translator)
11. Lady Mechanika Vol 01 by Joe Benitez, Peter Steigerwald
12. The Summer of Crud by Jonathon LaPoma (My review)
13. anemogram. by Rebecca Gransden (My review)
14. The Arrival by Shaun Tan
15. Long Lost #1 by Matthew Erman, Lisa Sterle
16. Wayward Vol 01 by Jim Zub, Steve Cummings, John Rauch
17. Waiting for Godot by Samuel Beckett
18. Drift Stumble Fall by M. Jonathon Lee (My review)
19. Ten Years in an Open Necked Shirt by John Cooper Clarke
20. Annihilation by Jeff VanderMeer (My Review)
21. Giant Days Vol 02 by John Allison, Lissa Treiman, Max Sarin
22. Cauldron's Bubble by Amber Elby (My review)
23. The Chalk Man by CJ Tudor
24. Amulet by Kazu Kibuishi
25. The Princess Saves Herself in This One by Amanda Lovelace
26. Pulse by Danielle Koste (My review)
27. Creases by Jack CJ Stark (Is this cheating? It might be cheating. I am a cheat. I am also Jack CJ Stark)
28. Rusticles by Rebecca Gransden (My review)
29. That Old Black Magic by Cathi Unsworth (My review)
30. Anya's Ghost by Vera Brosgol (My review)
31. Friends With Boys by Faith Erin Hicks (My review)
Books and Pages Read Challenge
Last year I read 137 books and ~19,000 pages. I read a lot of short stories and single issue comics which bumped up the books read total and kept the pages read total low. For 2018, I wanted to read more collected volumes of comics to balance out the numbers. I also wanted to spend more time on writing, meaning I was not going to have as much time to read, so I lowered my goal considerably. I set my goal to 61 total books, and 12,200 pages. So far:
31 out of 61 books read. I am on track! I haven't specifically tried to be on track, it's just worked out that way. Which is cool.
5580 out of 12,200 pages read. So, I'm below target by about 600 pages. That's a lot. I need to up this.
Other Random Stats
I keep a bunch of other stats in my spreadsheet. NEERRRRRRRRD! So let's have a look through some of them.

2 books by multiple, 15 male, 14 female. I'm happy that the male to female ratio is balanced, but I haven't read a single book by a genderqueer author yet this year. That is shameful. I will look to change this over the next 6 months.

160 pages by multiple, 2339 male, 3081 female. This means I am reading longer books by female than male. This is probably because most comics I read are written by men. We desperately need more non-male created comics to be published! If anyone has any recommendations for some, hit me up!

6 books with an ensemble, 10 with a male protag, 15 with a female protag. I often find this stat interesting to read. It doesn't tell me much about my own reading choices as I never decide to read a book based on the gender of the protag, but it does show that males write more female protag stories than females write male protag stories. I'm not about to start speculating as to why this is (I simply haven't done enough credible research into why), but I would be interested in learning why this is. And when I say, 'learning why this is' I mean, with a credible impartial study, not just subjective opinions. 🙂

There isn't really much to say about this is there. I would like to focus more on novels over the next 6 months.

There are no surprises for me here. I know I prefer Adult/Young Adult, and I'm not a fan of Middle Grade per se. Last year I read many more children's books with my niece, but she doesn't visit me as often these days so that's why this has dropped so much.

I want to do some work on recategorizing my genre charts and options. I have a sub-genre section as well, but it still doesn't tell me much. I will no doubt change this considerably some time soon.

I'm actually surprised the physical is this high. I am aiming to live a minimalist life, and have spent the last 6 months drastically reducing my physical possessions. I will most likely get to the point where I only read digital books, and I am 100% happy and content with that.

Yep, again, no surprises for me here. I have often mentioned how I struggle with larger books because of my short term memory issues. I can manage larger books, but about 400 pages is my limit, and I don't do well with large casts. I think though, in order to reach my pages read target, I will have to read more novels longer than 200 pages!

Yeah, I had a tough April. But I picked it back up in June. Hopefully I can maintain June's numbers through the rest of the year.

I don't reread a lot. I have some stories that I read each year (Skellig, The Ocean at the End of the Lane, and others). I reread the Wayward Children books in prep for the release of book 3. Depending on if I can get an ARC of Winter of the Witch before the end of the year, I will reread book 1 and 2 of the Winternight trilogy.

I feel I have been a little generous with my ratings at the beginning of this year. I've always struggled to rate books on a 5 star scale. I have no idea how people manage with half stars, never mind those quarter stars! That's just madness! So earlier in the year, I changed to a different rating system. It's very easy and simple!
I now rate a book in the following areas; Writing, Setting, Plot, and Characters. Graphic novels and comics have an extra score for artwork/graphics. I use a 1, 3 or 5 for each area. 1 = it's poor, or problematic. 3 = Good, not great. 5 = Great. Then I total them up and average the score. I then round that up or down to the nearest full star, except 4 stars are always rounded down to 4. The only way to get a full 5 star rating is to score 5 in all areas. This means 4 stars is the easiest score to get (as it includes anything from 3.5-4.9). That average star rating is then used to fit into one of the following categories:
1 or 2 stars = Not recommended.
3 or 4 stars = Recommended.
5 stars = Golden pip.
Super duper easy and simple, right?! Look, I know that it might not seem that simple, and may appear to be unnecessarily complicated to most, but it really does help me feel better about my ratings. I write reviews as I go along for most reads, so I can often score these areas by about 75% of the way through, and then I just change them at the end if necessary. I'm also considering adding many more areas to score.
Short story collections or anthologies are scored per individual story and then the collection is given an average at the end.

So far this year, most of my reads have been enjoyable and scored between 3-4 stars. You see that 3.2% golden pip slice up there – that is one book, but you have to wait to see which one. Ooooooh tension building. Although, you may already know which it is if you read the review and have a memory like a normal person!
So which books have I particularly enjoyed so far this year? Well, I'm glad you have asked me that. These books were particularly enjoyable.

Beneath the Sugar Sky – My Review

anemogram. – My Review

Giant Days, Vol 2 (Did not review)

Cauldron's Bubble – My Review

Pulse – My Review

The Chalk Man (Did not review – I should probably review this)
And you know that one Golden Pip you are waiting with such anticipation to know! Well, of course it is this:

Rusticles – My Review
I want to reread anemogram some time soon because the first time I read it I loved it, and with my new rating system, it's Recommended status is likely to change. I have done enough gushing about how much I love Rebecca Gransden's writing, and it's embarrassing if I keep on about it, particularly given that I have had the occasional chat with Rebecca on the twitter machine. I have to play it cool right?! So people don't think I'm weird… *shifty eyes* But seriously, if you haven't read any of Rebecca's writing, do yourself a favour and pick up either Rusticles or anemogram. I can't guarantee you'll love them as much as I do, but I'm pretty sure you'll enjoy them at the least.
(Edit addition: Also, read the short stories BABY WITH A FLAMETHROWER, CHEWING GUM ON A MOUNTAIN because it's hilarious, and A Pulser Sunsetting because it's very typical of Gransden's enchanting dreamlike and unsettling style.)
Future Releases I'm Looking Forward to
I've just surprised myself by looking and noticing that I have very few books on my TBR that have not been released yet. Like, WTF? Here are the few I am looking forward to.

Double Double Toil by Amber Elby (Goodreads)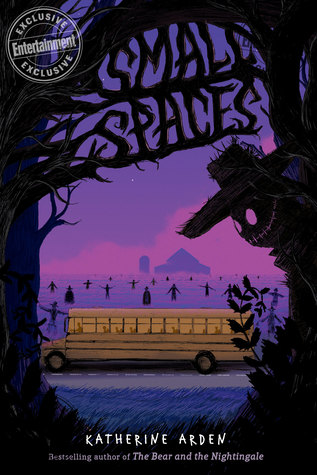 Small Spaces by Katherine Arden (Goodreads)

What the Flower Says of Death by Danielle Koste (EDIT: I've seen the final cover for this and IT IS STUNNING! [I will update this post with the actual cover after the cover reveal])  (Goodreads)

In Bloom by C.J. Skuse (Goodreads)
That's it for 2018! There are some I am looking forward to for early 2019 that I might be able to get an ARC for in 2018.

The Winter of the Witch by Katherine Arden (Goodreads)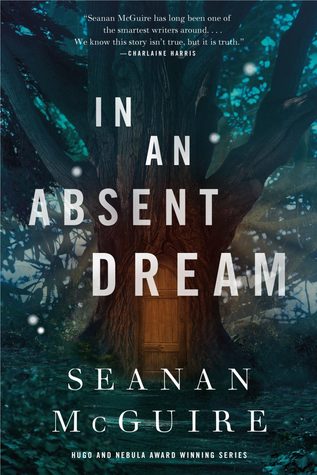 In an Absent Dream by Seanan McGuire (Goodreads)
---
And that's my mid year review for 2018. So far, I am very happy with how my reading is going this year. Less so with how my writing is going! But that's a different matter. I need to read more longer books, and I MUST find at least a couple written by genderqueer authors.
In my original post that got stuck in the drafts…, I asked how your year is going, but most of you have already posted a mid year review by now, so instead I shall ask something else… *thinks*… *thinks a bit longer*… *it hurts*… erm…
Mashed or roasted potatoes?
If you want to collect your own stats, but don't know where to start, you can use my template by going here! Anyway, I'm off to add an additional 536 categories to score each book on in order to make my overall ratings easier. Until next time, Peace and Love!