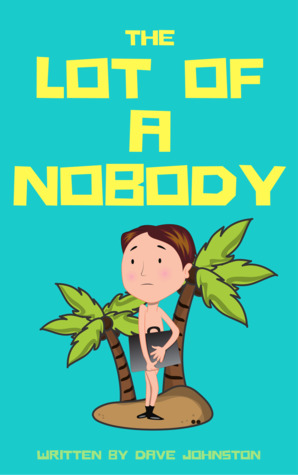 Title The Lot of a Nobody
Author Dave Johnston
Genre Fantasy, Mystery, Humour
Format Kindle Edition
Page Length 257
Publication Date 22 Mar 2017
Publisher Self Published
Read Date Jul 2017
Rating 4.662639 stars – Recommended

Summary
"Lot was a Nobody. Lot was a nobody. Sometimes, life deals you a right melon."
Lot Nobody is average – even his ears – and is so lonely that he's become invisible. But on his 16th birthday Lot truly starts disappearing – uprooted to a magical island, then sent back fully naked in the most embarrassing of situations.
After befriending Ethan Longbow – a classmate who's about as street as a satsuma – Lot's insecurities start to peel away, an angry volcano begins to pulsate, and Lot Nobody goes toe-to-toe with the dastardly megalomaniac Hector Shady.
Lot must now face his anxieties, save his new island friends, and discover why the hell his bum has been so itchy …

Do you like to laugh? Of course you do! Do you like great stories with great characters and a solid plot? Of course you do! Well, this book is for you.
Lot Nobody is a shy 16 year old nerd that goes through life not really being noticed by many. There is nothing special about him. That is until one day when out of nowhere, he mysteriously teleports to an island. And when I say Lot teleports, only Lot teleports – he leaves his clothes behind and arrives on a beach naked. guffaw This happens a couple of times before Lot meets the very welcoming island natives that have been expecting him for some time. Lot is told he is a chosen one (chosen by the island) and that he is being brought there to help. Lot just isn't quite sure how a Nobody like him can do this. Add in a mystery about carved statues that are being washed up on beaches across the world and a James Bond esque villain (literally called Shady) and we are left with plenty of questions to keep us interested and asking what the fuck is going on?! This is rather light-hearted and very funny in parts.
Lot's voice had been totally unaccustomed to so much talking – he now had a sore throat, a tired tongue, and sounded huskier than 'Macho Man' Randy Savage after a bottle of scotch and twenty B&H. Oh Yeah!
Lot is adorable. He meanders through life trying his best to be a nobody – to not be seen by many and to get through a situation with as little conflict or interaction as possible. His best friend Ethan on the other hand, well, you could describe him as Bizarro-Lot. He's a more brash and extroverted version of Lot. The relationship between Lot and Ethan is a delight to read. Ethan initially irritated me at the start, but I very quickly came to appreciate his comic relief, fact-bombs, and facetious mindset. At one point I was like, That's just silly, but that's Ethan for you and if I was there, I would ruffle his hair and refer to him as a lovable rogue. Ethan's loyalty to Lot caused my heart to glow. I should probably get that checked. The conversations between Lot and Ethan are sooooooo good. I really appreciate realistic dialogue in stories, and this is full of excellent, witty and unintentionally insightful exchanges. Ethan is the perfect sidekick. Totes a certified G. (and you can't teach that)
Lot began to wonder who Ethan's apparent guardian angel might be, and secretly wished it was him.
In the story, mysterious, numbered, carved figures keep washing up on beaches across the world. These figures are being collected by the Shady corporation. We ain't quite sure why to start with. Lot, along with his sidekick Robin Ethan hatch a plan to try and discover the connection between the statues, what is going on at Shady headquarters and Lot's ability to teleport to the paradise island.
'Double balls!' Lot announced to the little orange crab babbling away expansively on the beach, waving its claws around in the air and hopping from foot to foot. With crazy dance moves like that, there was less chance of him attracting a lady crab, and every chance he might just pull a mussel – thank you, I'm here all week.
This is beautifully written. It's an easy read with a few twists, suspense and a satisfying ending. As an intelligent and alert Brit I really like silly humour; it is deep in our DNA. This is full of silly humour. I have to make a point of commenting on the quotes at the beginning of each chapter – it's difficult to explain why they are so delightful, but they are. Well played, Dave, well played!
'So I'd had these fizzy sweets, and not just fizzy, I mean these were fizzed up to the max. And then I figured I'd wash it all down with a bottle of fizzy pop.' 'Fizzed up to the max?' Lot interjected. 'Hells yeah. Dialled up to the serious chronic. I mean, it was a totes gnarly combo, but you knows how I hearts my candy and cola. So Mum's looking in this shop window at some ropey old granny sweaters, when there's this deadly bubbling through my body, and suddenly I'm clutched over doubled in pain. Trapped wind I thought? It felt like the male equivalent of pushing a baby out.'
Anyway, I'm off to the beach to look out for carved figures. Peace and Love.
LINKS – Goodreads | Amazon UK | Amazon US