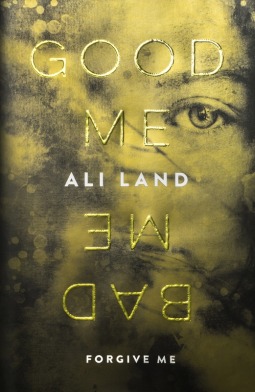 Title Good Me, Bad Me
Author Ali Land
Genre Contemporary, Thriller
Format Kindle Edition
Page Length 400
Publication Date 12 Jan 2017
Publisher Penguin Books Ltd
Read Dates 14-15 Jul 2017
Rating 4.64559 stars – Recommended

Summary
Annie's mother is a serial killer. The only way she can make it stop is to hand her in to the police. But out of sight is not out of mind. As her mother's trial looms, the secrets of her past won't let Annie sleep, even with a new foster family and name – Milly.
A fresh start. Now, surely, she can be whoever she wants to be. But Milly's mother is a serial killer. And blood is thicker than water. Good me, bad me. She is, after all, her mother's daughter…
STARK'S THOUGHTS
Oh my! What a bloody marvelous book! A deep, enthralling dive into a dark, heartbreaking and shocking subject matter with a narrative strong enough to keep me hooked throughout.
Annie is a 15 year old girl. Annie's mother is a serial child killer. We join the story when Annie is placed in foster care after her mother has been arrested and is waiting trial for the murders. Annie is given a new name, Milly, and the story is told from her POV. Milly must now try and carve a new life for herself, but does the apple really fall far from the tree? Can she really, truly, walk away from the life she has known? Or is the damage her mother has done to her too much to repair? Find out next week, SAME BAT-TIME, SAME BAT-CHAN… wait, what?! No. There is no time or channel, this is a book.
Morgan's question unsettles me, makes me think about what lives inside me and if it's possible to outrun it. Traits buried deep in my DNA follow me. Haunt me.
On a slight side note before I get into too much about my own thoughts on this, I want to say that I have been a foster carer for about 9 years now, and for a number of years I worked at a project that supported children (aged 8-16) who had, and sometimes still were, experiencing sexual abuse. Although I have never come across a case as harrowing as this, I have had lots of experience of working with adolescents who have experienced abuse and the challenges they face when they are removed from that situation. It came as no surprise to me when I read that the author used to work as a Child and Adolescent Mental Health Nurse. Ali Land's expertise clearly shines through in this.
I completely admire how well written Milly is. She feels so very real. Milly has all the symptoms of someone who has experienced a long term chaotic and abusive childhood. But there are so many subtle things about her character that make her very real. I was in awe throughout at just how well the author manages to put these traits in without them distracting from the story or becoming a focal point. Although I do not enjoy necessarily enjoy reading about child abuse I have to gush a little more about how perfect the author got this, but… sort of 'almost-tiny-minor-spoilers', so be careful:
Things I felt were perfect about Milly's character:
– Her thoughts and behaviours on self-harm and suicide.
– Her low self-esteem and her struggles with believing she doesn't deserve anything positive at all.
– The way she sabotages situations and relationships and deals with rejection by punishing herself.
– The push/pull Milly feels towards her mother. How Milly is stuck in the cognitive dissonance of loving and hating her mother and the struggle she has with that.
– Her struggle with trusting anyone.
– The guilt and self-blame that she has which is so common with people who experience abuse. The way she feels responsible for the abuse she received and for not saving the other children.
– The way she manipulates people to get what she needs. And not in a 'I'm going to manipulate the situation because I don't care about other people' way, but as a survival technique. We, as the reader are very much manipulated by Milly.
The confusion a child feels when violence is mixed with tenderness. Push and pull. A hyper vigilance, never knowing what to expect, but knowing to expect something.
With all that niceness over with, I did feel the plot was a little thin in parts. I was grabbed by the interest in Milly and what is essentially a case study of the aftermath of her abuse. I'm not sure if someone who doesn't have an interest in this field would find the plot enough to keep them interested. There isn't a huge amount of mystery and for a while it doesn't feel like the story is going anywhere. It absolutely is going somewhere, but it didn't always feel like it. But that is a minor thing. I was still invested throughout.
This story is very dark in parts, and is full of triggers for self-harm and suicide and the obvious abuse and murder of children. It is a little difficult to read at parts, but if you feel you could handle it, I would urge to push through.
I told him I envied you, out in the open, whereas I live in the dark, hidden from all but a few. Everything taken from me, even my name. He told me to view the darkness as a place to rest; in the future it'll become light.
I was thoroughly (and somewhat disturbingly) satisfied with the ending. I like it when an author knows when to end a story, and this was a good example of such. With that said though, I was disappointed to get to the end because I was enjoying it so much. This means I will be looking out for more from this author. I will also probably reread this again at some point as I'm sure there will be things I missed.
Mike asked me once what I wanted from life. Acceptance. That's what my answer was. To accept where I've come from and who I am, to be able to believe and prove the curious shape you twisted my heart into could be untwisted.